Home » Posts tagged 'cement siding'
Tag Archives:
cement siding
Fiber cement siding, also known as Hardie board or Hardi plank, is rot, insect, and fire-resistant. It resists salt air and can handle high winds. Its noncombustible qualities make it ideal in arid locales.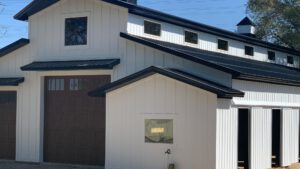 This heavy-duty siding looks similar to brick and natural stone but outperforms them in durability. However, its installation requires specialized skills and tools. Hiring a professional at Charleston Advanced Siding Repair ensures that the project goes smoothly and is completed on time.
Several factors affect the cost of fiber cement siding. These include the initial installation and ongoing maintenance costs. Homeowners can save money by purchasing their siding in bulk at a warehouse. They can also purchase prepainted siding, which lasts longer than DIY paint jobs. They can also save by hiring professional installers and avoiding rush orders, which cause prices to spike. Additionally, homeowners can avoid additional charges by removing the existing siding themselves before the new installation begins.
Cement fiber siding is a popular alternative to wood siding for its durability, beauty, and low maintenance requirements. It resists rot, fire, insect infestation, and hail damage better than most other siding materials. Its manufacturers also offer 30- to 50-year warranties for their products.
While the composition of fiber cement siding varies from company to company, most manufacturers use Portland cement, sand, and cellulose (wood) fibers in their product. The use of cellulose fibers helps prevent cracking and reduce moisture content. Some companies also use a special curing process to ensure the product is completely dry before shipping.
The most well-known brand of fiber cement siding is HardiePlank, produced by James Hardie Industries. It is a popular choice for residential properties and comes in a variety of colors and shapes. It is relatively expensive, but it is a durable material that will last the lifetime of the house. It also requires very little maintenance, including no staining or repainting.
While these sidings are durable and attractive, they can be difficult to install. They are heavy and must be cut to fit the structure. This can require the use of pneumatic or handheld shears, a dust-reducing circular saw, and a miter saw. It is important to wear a face mask when cutting the material, as it can release silica dust into the air.
Fiber cement siding can be expensive to install but less costly than vinyl or aluminum siding. However, it is still more expensive than wood siding. Homeowners can save money by purchasing the siding in bulk from a warehouse or buying it online. They can also save by choosing a standard color instead of painting the siding themselves.
Durability
Cement siding is a solid, durable, class A fire-resistant material that resists harsh sunlight, freezing temperatures, hail, and heavy winds. Unlike vinyl, it doesn't buckle under these conditions. It is also mold- and insect-proof, rot-proof, salt-resistant, and has a high degree of durability in terms of impact resistance.
Fiber cement products from companies like James Hardie offer a wide variety of styles, colors, and textures. They come in lap siding, shake shingles, large panels, trim boards, and other elements. These can be painted or pre-finished, and they can be installed either as cladding or accents on other types of materials. They can even be used to add a stone, brick, or stucco look.
In addition to being highly durable, fiber cement is also a very green product. The cellulose fibers in it are not derived from endangered trees, and no toxic substances are used in its production. It is also made specifically for various climates, so it can withstand severe heat, high humidity, and frost.
Unlike wood, steel, and aluminum siding, fiber cement can stand up to a variety of environmental factors. It is not vulnerable to rust, and it can withstand severe hailstorms, which can cause damage to other types of exterior materials. Additionally, it is not affected by UV rays and has a high level of impact resistance.
Its durability and strength also make it a good choice for cladding soffits, trim planks, and other areas of the home that need additional protection. It can be installed in a wide variety of different architectural styles, including ranch-style homes, Cape Cod cottages, and other historic home designs.
One of the drawbacks of this material is that it can be difficult to install. It's heavier than vinyl, and if it's not properly installed, it can crack or break. It's also important to use special saw blades and a respirator mask when installing it, as cutting fiber cement releases respirable crystalline silica. Additionally, it's a poor choice for very high-wind locations, as its weight could cause the house to become unstable and dangerous.
Installation
Cement siding is a durable, long-lasting material that can add a lot to the curb appeal of your home. However, installing this product requires a great deal of knowledge and skills. It is best to hire a professional if you aren't confident in your ability to install fiber cement siding on your own. In addition, this type of siding is heavy and can pose many challenges during installation. It's also quite dusty when cut, which can be hazardous to your health if not properly ventilated.
Fiber cement cladding is an environmentally friendly alternative to wood siding, as it uses recycled or reclaimed wood for its components. It is also non-combustible, and has excellent fire resistance. It is a popular choice for homeowners in high bushfire-prone areas. Fiber cement cladding is also available in a range of styles to complement your home's style.
The composition of fiber cement siding varies from manufacturer to manufacturer, but the basic recipe includes Portland cement, sand, and cellulose (wood) fibers. This allows it to withstand the elements and other hazards, such as insects and noise pollution. Its durability is backed by manufacturers' warranties of 30 to 50 years.
While fiber cement siding is a relatively new product in the building industry, it's a smart option for homes. It's stronger than vinyl and has a more authentic appearance. It's easy to clean and resists rot, mold, and termites. It's also non-combustible, and resists heat and frost.
Whether you're looking for a stucco accent or a stone-clad cottage, fiber cement siding is the perfect choice. You can also use it to clad your entire home. It is available in a wide range of colors and finishes, and can even mimic the look of brick or stucco. Plus, it's a green building material that can help you earn LEED points and credits.
Maintenance
Fiber cement siding is a low-maintenance option that closely mimics the look of natural wood and comes in painted or unpainted options. It has a class 1A fire rating, is impervious to moisture and rot and is not susceptible to damage from salt or ultraviolet rays. It also is not appealing to woodpeckers and termites, making it a more sustainable alternative to traditional wood siding.
If you choose an unpainted option, you'll need to repaint every 5 to 12 years. If you opt for a prepainted product, most manufacturers offer a "no-crack, no-peel" guarantee that lasts 15 years.
The cement mixed into each piece of fiber cement siding makes it very strong, which helps it resist storms, high winds, hail and other weather events without damage. However, just like any other material, it requires some upkeep. Checking the exterior of your home regularly for mold and mildew, especially in dark areas behind gutters or walls that don't get much sun, is important. You can typically remove the buildup with a gentle store-bought cleaner that's safe for use on fiber cement siding and a scrub brush. Always follow the manufacturer's recommendations regarding the maximum pressure you can safely spray.
If any sections of the siding have a ding or dent, you can repair it by applying a caulking compound that's compatible with the product. Deeper dents and chips can be filled with patching compounds. Inspect the caulking yearly to ensure there are no cracks and replace any.